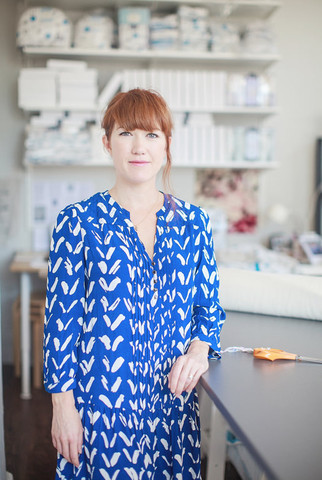 Meet the maker
It's just 6 years since Jennifer set up business, but you can already find her wares in many of Irelands leading retailers, including Brown Thomas, Kilkenny stores, Arnotts, as well as her own recently opened studio shop on Dublin's Benburb street. Jennifer originally trained as a graphic designer, before working in a Dublin design studio for several years. Passionate about sewing and knitting from an early age, she returned to college to study embroidered textiles at the National College of Art and Design. Her previously differing career paths now converge as she creates textile products for the home from her studio in Dublin.
The designs that Jennifer sells today are the result of many years studying and working in the design industry, her products are made with quality fabrics and beautiful designs for a lifetime of use. Ranges include home furnishing accessories, table linens and gift sets. Throughout all of these ranges the traditional is infused with the contemporary through the medium of print and embroidery. Jennifer's work is a celebration of the everyday heirloom, she believes that age brings character and with that an inherent beauty. She is attracted to flaws, broken edges and her designs illustrate the beauty of imperfection.
I am lucky to work with an incredible network of Irish manufacturers and suppliers. For me, it's all about quality, I appreciate pieces that have survived the test of time. I've always preferred to buy a piece of clothing or something for my home that I love and will cherish for a long time, and the products I'm creating are made to last and age beautifully – I hope they'll become future heirlooms to be passed down."

Behind the scenes
Every product we make begins life on paper. Painting, drawing, photography, collage and mixed media techniques are explored and then combined to create each design. Our printed designs are tested on a variety of fabrics to achieve the best look and feel to suit the design and suitability of use. Embroidery designs are hand drawn and then transferred on to computer, it can take days of sampling with various stitch and colour to finalise each design. When we have printed or embroidered the fabric, each product is then cut from a pattern and sewn to make the final product by skilled craftspeople in Ireland. The finished product is then packed and sent to our customers and stockists from our studio in Dublin.